HERC
Higher Education Resource Center
Our Informative Seminar
Strategic Education Planning:
Accelerated Paths to Degree Completion

We provide students with so many excellent resources that some find it hard to understand how they all fit together like pieces of a puzzle. They also want to know what has worked well for other students in the past so they can follow in their footsteps on the pathway to success in their own educational endeavors. That's why we created this seminar. It covers the topics that students asked about so often in an easy-to-understand way of presenting the information.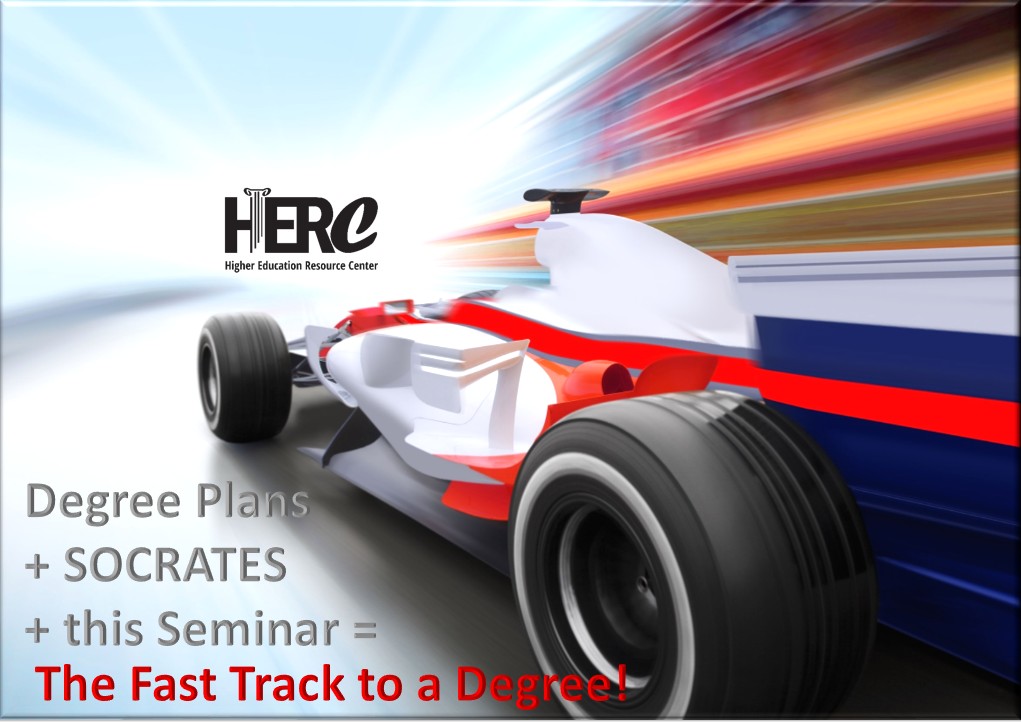 Strategic Education Planning: Accelerated Paths to Degree Completion
Strategic Education Planning: Accelerated Paths to Degree Completion is designed to teach students how to understand the higher education system in America and use the wide array of resources that we link them to on SOCRATES ® to help them succeed in their educational endeavors. The overarching goal of this seminar is to help students discover the pathway to degree completion that matches their needs, goals, and desires and to plan their journey to completion.
Subjects covered in this seminar include:
1) Intro to the Many Aspects of Education
2) Accreditation and Transferability Issues
3) Determining Desires: Self-Assessment Tools
4) College Credit for Military Training & Military Education Support Programs
5) College Credit for Professional Training at Government Agencies and Corporations
6) College Credit-by-Examination Programs
7) Tuition-Free College Courses - Test Preparation Resources & Free Academic Tutoring
8) College Credit for Professional Licenses and Certifications (Computer Certifications, ASE)
9) CAEL & Prior Learning Assessment, College Credit for Life Experiences
10) Employee-Focused Education Initiatives
11) Degree Options: Titled Degrees vs. Un-designated Individualized Studies Options and more
12) Financial Aid: Tuition Assistance, GI Bills, Scholarships and Grants
13) Distance Degrees vs. Resident Degrees
14) Getting on the Fast Track to Degree Completion
15) Using Education to Enhance Employment
16) Apprenticeship Programs
17) Dissecting the Degree: Strategic Individual Planning
18) Uncovering the Pathway to Success
We primarily serve adult learners in the workforce, rather than teenagers transitioning from high school to college. One of the statements that we have heard from many of those whom we have served over the years is that they need a degree and need it as quickly as possible. This course explains the use of our student support website, SOCRATES ®, so that students become familiar with the resources available to them. When they use the tuition-free courses in SOCRATES ® at their own pace in the convenience of their homes, students can complete the instruction and earn credit by examination at a much faster pace than taking courses from the college or university of their choice using standard academic terms. We are not advocating that students use SOCRATES ® solely ... We encourage them to use SOCRATES ® in addition to the courses they are taking from the college or university of their choice. That is the key to getting on the fast track to a degree. We provide those using our Free Support with password to access this Seminar after they enroll with one of our participating Colleges for Working Adults (CWAs). Those electing Premium Level Support are provided access to this Seminar right up front, instructing them on how to use the myriad of resources to help them succeed at their local college or university, one of our CWAs, or any of the hundreds of colleges and universities in the degree exploration system that we use offering thousands of degrees at a distance.
Top