HERC
Higher Education Resource Center
Colleges & Universities in DegreeQuest
The Who, why, where & how
Who: Accredited Colleges and Universities: The Safe Zone
All colleges and universities participating with HERC for the corporations and government agencies that we serve in the U.S. are accredited by commissions recognized by both the U.S. Department of Education (DofEd) and the Council for Higher Education Accreditation (CHEA). As such, they are listed in the American Council on Education's publication, Accredited Institutions of Postsecondary Education. (We do have a couple of British universities offering degrees at a distance to serve those in the 100 countries in which the organizations we serve have employees. These hold the UK equivalence of regional accreditation in England.)
There are different types of accreditation recognized by both DofEd and CHEA: Regional accreditation is the first and most widely accepted. The U.S. is divided into six geographic regions served by separate accrediting commissions. These include the New England Association, the Middle States Association, the Southern Association, the North Central Association, the Western Association, and the Northwestern Association. These regional accrediting bodies approve all programs of study offered by the colleges and universities that they endorse.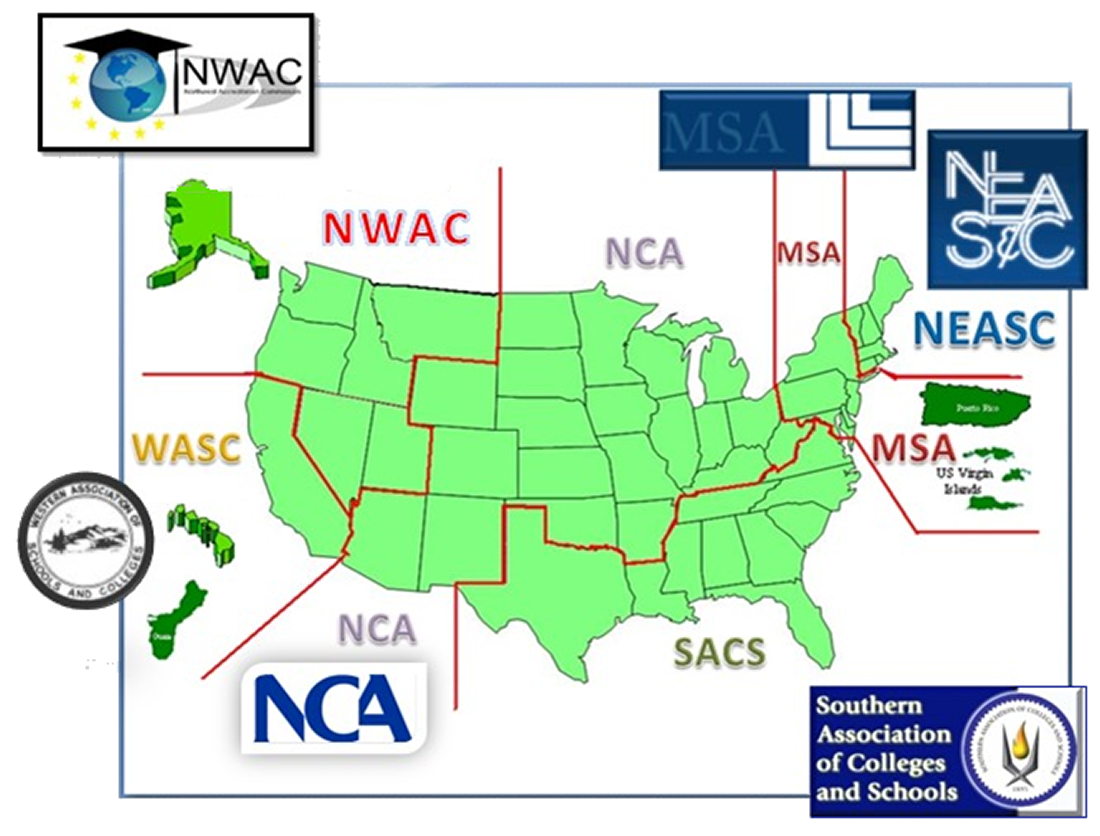 The second type of accreditation is National Accreditation. These commissions also provide oversight and approval of the broad range of subjects and programs of study taught at the colleges and universities they accredit. Some of these which are recognized by both DOE and CHEA include the Distance Education Accreditation Commission (DEAC), the Accrediting Council for Independent Colleges and Schools (ACICS), Accrediting Commission of Career Schools and Colleges of Technology, the Transnational Association of Christian Colleges and Schools (TRACCS), and others. (Our seminar discusses this in detail.) With DegreeQuest, transferability of nationally accredited courses can be easily facilitated using our system's design, which instantly identifies those colleges and universities which honor national accreditation. Also, keep in mind that both Regionally and Nationally Accredited colleges and universities are listed by the American Council on Education in Accredited Institutions of Postsecondary Education, so most corporations and all federal agencies recognize and accept their degrees with regards to jobs requiring specific degrees for workers.
One thing that you do not have to worry about with HERC are wolves in sheep's clothing: Degree mills preying on unsuspecting students. We are careful to ensure that each and every college and university presented to students is properly accredited by a regional and/or national accrediting commission recognized by the federal government (and CHEA). This is the "Safe Zone" - predators not allowed!
Whereas all colleges and universities in DegreeQuest are accredited, degrees that are earned from these colleges and universities are recognized by the federal government with regards to civil service positions requiring degrees, all branches of the military, and the vast majority of corporations and businesses across the nation and around the world.
The WHY: It is important that we have in DegreeQuest affordable programs of study from accredited colleges and universities that align with the missions of the organizations we serve, while providing pathways to achieve the degrees they desire while minimizing the costs to the students and the organizations (providing tuition benefits to their employees.).
... We have more than 423 accredited colleges and universities in DegreeQuest

Appx. 98% of which are Regionally Accredited,with around 2% being Nationally Accredited
State and Community Colleges and private non-profit or not-for-profit colleges comprise appx. 91.75% of the colleges and universities in DegreeQuest (when we did the last comparison in May 2016)
Private for-profit colleges comprise appx. 8.25% of the colleges and universities in DegreeQuest (many of which have tuition rates lower than State and Community Colleges or non-profits/not-for-profits).

Yes, we do have some of the expensive for-profit universities in DegreeQuest, as so many of the employees that we serve have seen their advertisements on television or other media and have already begun pursuing degrees through them or request to see where they would likely stand toward their degrees.
By having their degrees in the system, we can support those students who specifically request to see their degrees, as well as those who have already engaged with them, thereby enabling us to guide them in the use of the myriad of resources on SOCRATES ® to earn the degree they desire, thereby saving them a substantial amount of money.

... These colleges and universities offer more than 12,875 degrees

These cover the full spectrum of higher education, including undergraduate degrees (Associate and Bachelor's), graduate degrees (Master's and PhD's), and certificates (both undergraduate and graduate).
These degrees can be completed anytime, anywhere at a distance, with the same degrees being conferred as received by students on campus



The WHERE: We have colleges and universities across the nation supporting this initiative. In fact, there hundreds of colleges and universities offering thousands of degrees at a distance or on campus at more than 1,400 campus locations across the nation in the DegreeQuest ® System. The listing linked to the image on the right is only a partial list, as we add colleges and universities to the DegreeQuest ® system each month in support of the students that we serve. When we add colleges and universities to the system, our focus is on including the degrees that they offer at a distance, as those degrees could be considered by any employee supported across the nation or around the world. Some students prefer to sit in a classroom rather than taking courses at a distance, as they prefer to listen to the lectures the professors provide and the questions students ask. Actually, many of our students use SOCRATES ® to augment the instruction they are getting online from the college or university of their choice. They watch the video segments streamed online from previous semesters from many of the best universities in the nation to help them best understand the instruction they are receiving from their college of choice. That certainly is a method of approach that can boost the grades that students earn in the courses they complete.
.
The HOW: .Dare to Compare - that's what the employees we serve are able to do. Even those who are already attending a college or university that we have in DegreeQuest a
re able to know that they have made the right choice. In addition, with our support, we can guide them in the use of the links to the tuition-free courses on SOCRATES ® to earn credit by examinations accepted by the colleges and universities in DegreeQuest. When we minimize loss of credit in transfer, maximize the application of college credit for extra-institutional learning (professional training at corporations and government agencies, military training, professional certifications and licenses, etc.), and empower employees to use the tuition-free courses linked to SOCRATES ® to gain the knowledge they need to earn credit by exams accepted by 82% of colleges and universities nationwide, we stand behind our motto: We empower students to earn degrees quickly at a fraction of the cost.
Top